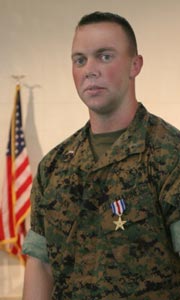 1st Lt. Thomas E. Cogan, awarded the Silver Star for actions as the
executive officer for Company E, Battalion Landing Team, 2nd Battalion, 4th Marine Regiment.
On April 6, 2004, 2nd Platoon was ambushed by enemy forces while moving to reinforce a heavily engaged unit. With total disregard for his personal safety, Cogan led his platoon across a fire-swept field and directed fire. Though caught in the crossfire, he exposed himself to direct fire in order to cross an open field and position himself to direct fires on the enemy. His actions enabled the company command element to move to safety. After consolidating his platoon, Cogan led his men through a fierce, three-hour, house-to-house assault that destroyed remaining enemy forces in his zone of action.