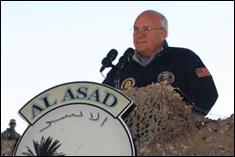 Vice President Surprises Service Members at Al Asad
: "Corporal Jeffery A. Firman, a 20-year-old light armored vehicle crewman from 1st Light Armored Reconnaissance Battalion had his Bronze Star pinned on by the Vice President of the United States during a surprise visit to Iraq. Firman was awarded the Bronze Star for exposing himself to enemy fire to rescue wounded Marines during a firefight. After seeing Marines fall under machine gun and small arms fire, Firman returned fire, directed his vehicle toward the wounded, carried wounded Marines to safety and then returned to his vehicle to provide fire, covering the Marines' evacuation. "It was awesome, but I was nervous at the same time," Firman said. "Of all the things you go through, I never expected to have the vice president give me a Bronze Star."
After the presentation the VP took questions from the Marines. Firman asked the VP:
"From our perspective, we don't see much as far as gains. We're looking at small-picture stuff, not many gains. I was wondering what it looks like from the big side of the mountain — how Iraq's looking."
"Well, Iraq's looking good," Cheney replied, noting that progress is difficult.
"We're getting the job done. It's hard to tell that from watching the news. But I guess we don't pay that much attention to the news," he said.